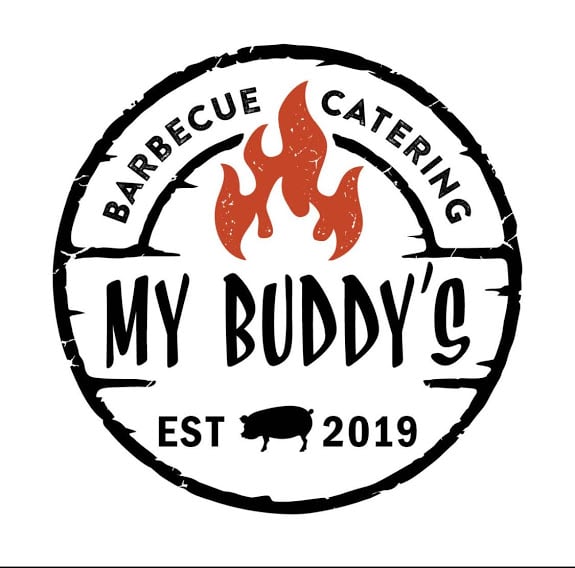 My Buddy's
BBQ & CATERING
Redefining Neighborhood BBQ
Smokehouse Cafe where we only cut fresh meats and veggies, never corners!
From Our Family to Yours
We specialize in superior quality food and beverages, legendary customer service, and treating our customers like family. Our menu includes favorites like pulled pork, ribs, burnt ends, sliced brisket, classic melts, burgers, mac n cheese, coleslaw, and much more. Dine-in, pick-up curbside or let us cater!
The Greater Caterer
Buddy's has earned its reputation as "The Greater Caterer" by offering fine food with a fantastic service at a fair price. While famous for our hickory-smoked Pit BBQ and all the fixin's, we offer a wide selection of other delicious handcrafted catered options. With Buddy's, you have no worries. Our experienced caterers make sure your event is a tasty success!
Loved it? Review it!
Leave a Review
"The burnt ends are unbelievable! They are so tender! I'd like to try some other things on the menu, but I just can't go there without ordering the burnt ends!!"
"Illinois is known for it's Horeshoe. I love a good horeshoe and I have had many in different areas, but the horeshoe here at Buddy's, is one of the best!"
"Yesterday was my first time eating here and I was really impressed. We had a group of 6 and shared the pulled pork nachos with the homemade chips — very good combo of flavors and a huge portion. I had the pulled pork sandwich which was tasty- the sauces were all good. Fries were fresh and hot and the my buddy sauce was really good with them. Service was excellent - our server was very friendly and attentive to our larger group. The place was pretty busy and really seemed to get people in and out quickly! Would definitely eat here again- they also have some great options for ordering meat for a big group that we would try in the future."
"Buddy and his team did a fantastic job for our open house event with a Cinco de Mayo theme. The chicken and beef for the tacos were both amazing. The guacamole was also a huge hit at our event. The portions were very generous and everything was top quality. I will be hiring My Buddy's BBQ again for future events!"
"Good burnt ends and love the wood chips!!"
"It all started on May 15, 2021. My boyfriend and I had recently started looking into new places to eat at in town and we came across My Buddy's. While hearing amazing reviews from friends and family we decided to give it a try. While coming in unsure of what to get, we were greeted by amazing staff that made us feel welcomed. We both decided to try to the loaded fries as an appetizer and the burnt ends combo with sweet tea. While looking around the restaurant to find a spot to sit, I came across a sign that I absolutely adored that said "Hogs and Kisses" with a little pig on it. Since then, that has become our spot to enjoy our meals each time that we come back. After sitting down, the waitress quickly brought us our sweet tea and loaded fries then followed with our burnt end combo meals. The loaded fries were amazing! The fries are topped with cheese sauce and bacon to give emaculate taste. To clinch our thirst, it was the first time trying the sweet tea. It was the perfect balance of sweetness that made me keep wanting to drink more. Now it was time to try the burnt end combo meal. While looking at all of the food you recieve for a very reasonable price, it was hard to decide where to start with it all looking amazing. Generously, My Buddy's sets out three different types of barbecue sauce that you are freely able to enjoy with your meal. The first barbecue sauce is regular, which is a great medium to have for people who are not comfortable to try new things. The second barbecue sauce that they have is called Sugar Buzz. It has the same base of regular barbecue sauce but adds a great amount of sweetness to the tangy part of barbecue sauce, making it my favorite! The third is called Carolina mustard which my boyfriend uses everytime we eat there. It is a mustard based barbecue sauce that has both sweet and tangy taste. While putting all three on my plate to try with my meal, the burnt ends were delicious! They were cooked tender with a smokey flavor. Along with my burnt ends, I also got a roll, baked beans, and fries. The baked beans were the best I have had in a long time. The fries are crispy and appetizing. With that being the first meal that I received from My Buddy's, I knew that we had to come back and try different things. Since then, we have came back to My Buddy's every week. Trying new meals such as pulled pork, brisket, and the 4 bone in ribs combo meals. Each and every time, My Buddy's has left us wanting to come back for more. This is why, I highly recommend My Buddy's to my friends and family."
"The burnt ends are unbelievable! They are so tender! I'd like to try some other things on the menu, but I just can't go there without ordering the burnt ends!!"
"Illinois is known for it's Horeshoe. I love a good horeshoe and I have had many in different areas, but the horeshoe here at Buddy's, is one of the best!"
"Yesterday was my first time eating here and I was really impressed. We had a group of 6 and shared the pulled pork nachos with the homemade chips — very good combo of flavors and a huge portion. I had the pulled pork sandwich which was tasty- the sauces were all good. Fries were fresh and hot and the my buddy sauce was really good with them. Service was excellent - our server was very friendly and attentive to our larger group. The place was pretty busy and really seemed to get people in and out quickly! Would definitely eat here again- they also have some great options for ordering meat for a big group that we would try in the future."
"Buddy and his team did a fantastic job for our open house event with a Cinco de Mayo theme. The chicken and beef for the tacos were both amazing. The guacamole was also a huge hit at our event. The portions were very generous and everything was top quality. I will be hiring My Buddy's BBQ again for future events!"
"Good burnt ends and love the wood chips!!"
"It all started on May 15, 2021. My boyfriend and I had recently started looking into new places to eat at in town and we came across My Buddy's. While hearing amazing reviews from friends and family we decided to give it a try. While coming in unsure of what to get, we were greeted by amazing staff that made us feel welcomed. We both decided to try to the loaded fries as an appetizer and the burnt ends combo with sweet tea. While looking around the restaurant to find a spot to sit, I came across a sign that I absolutely adored that said "Hogs and Kisses" with a little pig on it. Since then, that has become our spot to enjoy our meals each time that we come back. After sitting down, the waitress quickly brought us our sweet tea and loaded fries then followed with our burnt end combo meals. The loaded fries were amazing! The fries are topped with cheese sauce and bacon to give emaculate taste. To clinch our thirst, it was the first time trying the sweet tea. It was the perfect balance of sweetness that made me keep wanting to drink more. Now it was time to try the burnt end combo meal. While looking at all of the food you recieve for a very reasonable price, it was hard to decide where to start with it all looking amazing. Generously, My Buddy's sets out three different types of barbecue sauce that you are freely able to enjoy with your meal. The first barbecue sauce is regular, which is a great medium to have for people who are not comfortable to try new things. The second barbecue sauce that they have is called Sugar Buzz. It has the same base of regular barbecue sauce but adds a great amount of sweetness to the tangy part of barbecue sauce, making it my favorite! The third is called Carolina mustard which my boyfriend uses everytime we eat there. It is a mustard based barbecue sauce that has both sweet and tangy taste. While putting all three on my plate to try with my meal, the burnt ends were delicious! They were cooked tender with a smokey flavor. Along with my burnt ends, I also got a roll, baked beans, and fries. The baked beans were the best I have had in a long time. The fries are crispy and appetizing. With that being the first meal that I received from My Buddy's, I knew that we had to come back and try different things. Since then, we have came back to My Buddy's every week. Trying new meals such as pulled pork, brisket, and the 4 bone in ribs combo meals. Each and every time, My Buddy's has left us wanting to come back for more. This is why, I highly recommend My Buddy's to my friends and family."
"The burnt ends are unbelievable! They are so tender! I'd like to try some other things on the menu, but I just can't go there without ordering the burnt ends!!"
Jacksonville
733 East College
Jacksonville, IL 62650

Hours
Tuesday - Friday:
11:00 am - 7:00 pm
Saturday:
1:00 pm - 7:00 pm